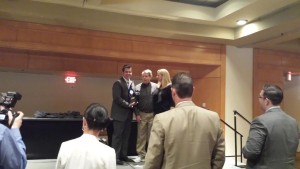 The Society of Collision Repair Specialists on Wednesday honored two recent acts and three lifetimes of service to collision repair — including giving out only the fourth lifetime membership in its history.
Sports & Imports Collision owner Gene Hamilton, who had already won the SCRS industry and lifetime achievement awards, completed the Triple Crown with the Lifetime Honorary Membership.
Former SCRS Chairman Barry Dorn — recognized as well Wednesday– observed that only three lifetime membership had been given out in the past by the more than 30-year-old organization.
Sports & Imports general manager Michelle Coombs, speaking on behalf of her father, said he would probably tell the audience that the industry has given him more than he's given it.
Dorn won the National Lifetime Achievement Award, and SCRS Executive Director Aaron Schulenburg said the honor showed that one person could make a difference. Schulenburg also noted that Dorn served as a contributing creator to some of the most beneficial and meaningful resources to the industry including the database task force, the Database Enhancement Gateway (DEG), SCRS' Guide to Complete Repair Planning, The Repairer Driven Education series at the SEMA show and this very news source, Repairer Driven News.
The recognition was one of the highlights of his life, Dorn said.
"I sincerely appreciate it," he said.
Dorn said Friday he was caught off guard by the announcement — and he's even on the awards committee.
"I wanted to thank all of my mentors over the years that have helped me become who I am and guide me down a path that I couldn't venture down without their help," he said in a statement Friday. ""People like Lou Dilisio, Jeff Hendler, March Taylor, Toby Chess and Gary Wano. Men who helped me understand that I can't do what I do for SCRS for my own personal gain but I do what do for the betterment of the industry and at the will of our membership.
"My wife Jordan and my kids to deal with my frequent travel and hectic schedule along with the numerous phone calls at night and during weekends. My co-workers at Dorn's who make it possible for me to be gone and do what I do to help the industry. My mother, who I lost last year. She forged me into who I am. She taught me to stand up for what was right, work hard at whatever I do, to be honorable, humble and to never give up.
"Lastly, I want to thank Aaron Schulenburg and the boards both present and past. All of you make it possible for me to learn what I do, each day. I am truly blessed to know and work with all of you and I can't thank you enough for all that you do for this industry. All of you are like my brothers and special to me in many ways."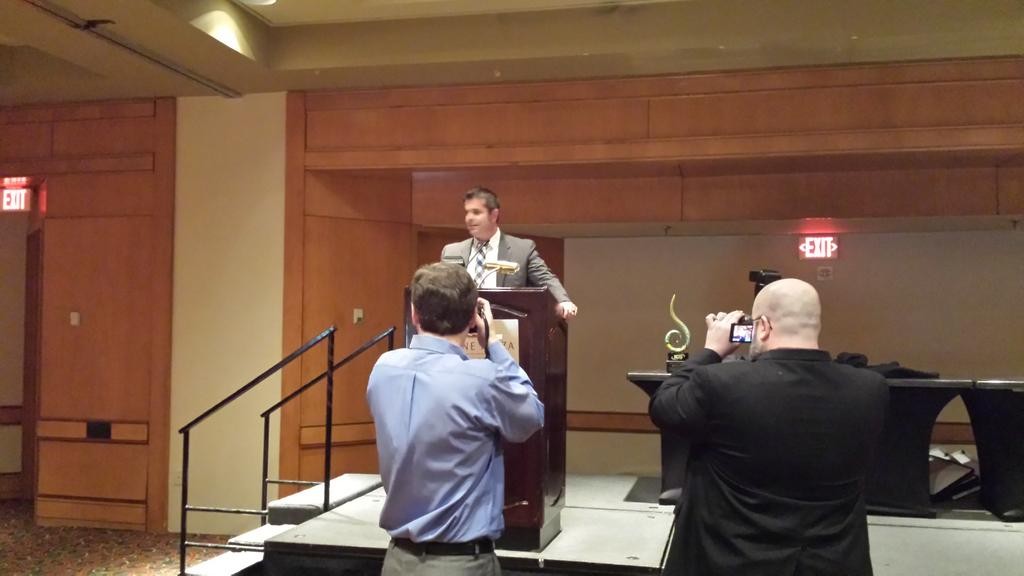 Bob Jones took the Regional Lifetime Achievement Award, and he thanked his brother who kept the shop running while he was out working for the collision repair industry.
"I'll cherish this industry forever," Jones said. "… I love this industry. It's been my life."
Georgia Collision Industry Association Executive Director Howard Batchelor received the Collision Achievement Award for his detailed research into paint and materials taxes — and double taxation — across the country.
The Nonindividual Award went to I-CAR for the Repairability Technical Support portal launched last year.
The awards were presented ahead of the Collision Industry Conference in Atlanta, Ga. — Hamilton and Batchelor's home state.
Featured image: Former Society of Collision Repair Specialists Chairman Barry Dorn, left, poses with SCRS Lifetime Member Gene Hamilton and Hamilton's daughter, Michelle Coombs on Wednesday at a luncheon ahead of the Collision Industry Conference in Atlanta. (John Huetter/Repairer Driven News)
From CollisionWeek
The Collision Repair Education Foundation will be hosting an open house event at Maxwell High School of Technology in Lawrenceville, Ga. on Wednesday April 8th, from 9-10:30 a.m. in recognition of the 2013 Makeover school grant that was provided by the I-CAR Atlanta Volunteer Committee.
This event will be taking place in conjunction with the Collision Industry Conference (CIC) meetings being held at the Crowne Plaza Ravinia that week. Hertz Corp will be providing transportation for CIC attendees to and from the hotel and the school so that industry members can see how the grant has transformed Maxwell's collision program. Industry guests will be transported back to the Crowne Plaza in time for the CIC meetings that begin that afternoon.
Atlanta I-CAR Chairman Gerry Poirier and Farmers Insurance National APD Manager said, "The Atlanta I CAR Committee is made up from all aspects of the collision industry. The ability to accomplish our successful fundraising is due to the dedication of each and every member. This dedication has resulted in our ability to give back to this great industry by providing the 2013 Makeover grant to Maxwell High School of Technology, scholarships for collision school students along with materials and tools. This will help replenish our dwindling shortage of people coming into the collision repair field. I encourage all industry members to come out and see what can be done to promote the collision industry starting in our local schools."
Maxwell High School of Technology Principal Dr. Jeff Hall noted, "I-CAR and the Education Foundation continue to be one of Maxwell's biggest supporters. They continually provide tools and equipment that enhances our industry-certified program in teaching students how to perform automotive vehicle body repair and refinishing skills. As you know, these skills lead to excellent jobs as an estimator, body repair technician, refinishing technician, or employment in a shop office or insurance claims office. Our instructor's aptitude and desire to produce quality student work, in and out of the classroom, can only be enhanced with the industry's support of our program. With the industry's continued support and the hard work of our instructors, Mr. Butch Luther and Mr. Sam Melaragno, I believe our program is in the top cadre of Auto Collision programs nationwide. We sincerely thank I-CAR and the Education Foundation for its belief in a strong education program for our students."
Maxwell High School also recently received its second annual contribution from the Georgia Collision Industry Association.
Collision repair industry members are asked to RSVP by March 27th for the open house by emailing Brandon Eckenrode at Brandon.Eckenrode@ed-foundation.org.
John Yoswick has done a great job picking up on some of the important points made during the OEM Collision Repair Technology Summit at the SEMA Show. This first caption is especially important to our members. This is exactly why manufacturers may differ in their recommended repair procedures, and why it is critical to follow them and not rely on experience on other brands.
OTHER CAUTIONS WHEN WORKING WITH ALUMINUM: The potential explosion hazard posed by aluminum dust (CRASH 11/17/14) was not the only cautionary note for shops shared by Kaiser Aluminum's Doug Richman at the "OEM Collision Repair Technology Summit" hosted last month by the Society of Collision Repair Specialists (SCRS). Richman said following automaker recommended repair procedures is crucial. Car companies can choose from a wide variety of aluminum materials, each with its own tempers and characteristics, he said. Even knowing the "number" designating a type of aluminum isn't enough. "When you see a number like '6061,' what you need to understand is every manufacturer of 6061 has a different formulation – or in fact multiple formulations – that are 6061 materials," Richman said. "Just because it says '6061' doesn't mean it acts like the '6061' on the next vehicle you see. They are very different. Be certain that you consult the OEM recommended repair practices for the specific model, because even within a manufacturer, they have varying practices depending on the specific design or model." Following manufacturer guidelines for rivets and adhesives is also critical, he said. Use of the incorrect adhesive, for example, may not ensure the necessary gap for that adhesive is maintained between the pieces being joined, Richman said.
MORE SPECIALTY MATERIALS COMING: Automakers discussing changing vehicle technology at the SCRS-hosted summit shared Richman's emphasis on the need to review OEM procedures regularly. "Check them for every repair because you never know when there's going to be a change in a repair procedure that may be a better way of doing things," Mark Allen of Audi of America said. Though none of the automakers at the summit revealed specific vehicles under development, many said to watch for more widespread use of currently less-common materials. "Carbon fiber is something you're going to see not only in the new BMW i3, but in mass-produced BMWs as well in the future," Tom Brizuela, body and paint technical team leader for BMW of North America, said. "We have an aluminum product coming, and we are experimenting with carbon fiber as well," Leo Gruzas, manager of body/exterior service engineering for General Motors, said. Whether or not a shop chooses to specialize in certain types of vehicles or get OEM certifications, Allen said, the increasing complexity of vehicle design and materials means the days of shops repairing virtually any car that comes in should be over. "You need to put the American spirit of, 'I can fix anything' aside," Allen said, comparing the need for specialization by shops to specialization in the medical profession. "You are better off stepping away from a job and helping that customer be safe and get to the right repairer who has the training, than to selfishly go at that job. That's a level of maturity we have to come to as a collision repair industry."
RATE OF RETURN ON CERTIFICATION INVESTMENT: As reported in a previous issue of CRASH Network, automakers at the summit also discussed various changes coming to their shop certification programs (CRASH 11/24/14). (To clarify that previous story, Toyota was the only automaker that said post-repair inspections would become part of its shop certification program.) Such evolution in the programs is something shops should consider when deciding whether to invest in meeting the requirements for certification; if the program changes and requires additional expense before a shop has achieved a return on its original investment, it will only further delay a full return on the shop's investment. A panel of shops with OEM certifications was asked at the summit how long it took them to see a return on investment on their first OEM shop certification. "It's probably going to take about seven years, given the latest requirements of the Mercedes aluminum program, to give us a return on our investment," Rodney Antepenko, owner of Westmont Body Werks in Westmont, Ill., said. Others said it took as long as 10 years or as little as five years, but all agreed it's a difficult thing to predict or measure. Kye Yeung of European Motor Car Works in Santa Ana, Calif., said he had projected a 5-year return on investment. "But what I didn't realize was that being associated with that particular certification brought other business in," he said. That sped up the return on investment even though some of that return was based on work on other makes of vehicles, Yeung said. Paul Sgro, owner of Lee's Garage in West Long Branch, N.J., agreed. "When you have a customer that has an exotic automobile you're repairing, and the rest of his family is driving something else, you're also taking care of their cars," Sgro said.
Aaron Schulenburg
Executive Director | Society of Collision Repair Specialists (SCRS)
302.423.3537
877.435.6028 Fax
aaron@scrs.com
From CollisionWeek News
The Inter-Industry Conference on Auto Collision Repair (I-CAR) has launched its Repairability Technical Support Portal for collision repair technical questions and answers. The site is designed to benefit technicians, shop owners, estimators, insurance specialists and field educators.
"This portal represents I-CAR's direct solution to the need expressed by the industry; improved accessibility to the repair information required to support performance of complete, safe and quality repairs for the ultimate benefit of the consumer," said John Van Alstyne, CEO & President of I-CAR. "We have created an online resource that brings the OEM and collision repair worlds together for an exciting collaboration that will make more repair critical information available across the industry, contributing to time, resource and cost savings in all aspects of the repair process."
Among the portal's highlights:
Thousands of pages of OEM Repair information specific to hundreds of vehicle models
"Top 10" repair inquiries, plus an extensive searchable database that allows model specific research into the thousands of technical inquiries I-CAR has already addressed over the years
The latest industry news and information
Quick and important reference materials such as the Airbag and Partial Replacement Matrices
And all the content is accessible on-the-go, from a laptop, tablet, smartphone, etc.
A key element of this new service offering is 'Ask I-CAR', a new service I-CAR designed to help the industry with repair technical questions. Inquiries can now be submitted online, or via telephone. 'Ask I-CAR' features full-time staff dedicated to responding to collision repair inquiries from users.
Both online attendee registration and housing reservations are now open for NACE and CARS 2014, part of Industry Week starting July 27 in Detroit. These include many board and association meetings Monday, July 28; the CIC summer meeting on Tuesday, July 29; the I-CAR Conference and Gala 35th Anniversary Networking Event on Wednesday, July 30; and features the NACE | CARS 2014 Conference + Expo, Wednesday – Saturday, July 30 – August 2 The Expo will be held Thursday and Friday at the COBO Convention Center.
Expo Passes to access the show floor only can be purchased for $35/each; individual, 90-minute conference sessions are available for $75/session or individual 3 or 4 hour conference sessions are available for $150/session; a Day Pass is $250, and Saturday Mechanical Sessions are $150; a full-access Super Pass is $315 for members and $365 for non-members. All prices noted reflect Early Bird pricing, which is in effect through June 14th. Add-On Education from I-CAR, as well as the CRES/MSO Collision Repair Executive Symposium and TTF Technology & Telematics Forum events are available at an additional charge.
New this year, all registration options include the NACE and CARS Show Floor Receptions on Thursday and Friday evening, the Opening General Session Thursday morning and The Assembly – Industry Forum on Wednesday afternoon. Additional details on these events will be released in the near future.
"As the automotive collision and mechanical industry's premier networking and training event, we are so pleased to include the Show Floor Receptions, Opening General Session and The Assembly – Industry Forum in every registration this year, as it reflects our desire to create an event that fosters networking and community interaction among our attendees," stated Dan Risley, Automotive Service Association President.
Article details ways repairers may be able to manage how "data pumps" access file information
Many repairers are unaware of the breadth of data being extracted from their servers, where it is being extracted from, what settings they could employ to better control the flow of information, or even how that information may be used beyond its intended purpose. For years, the Society of Collision Repair Specialists (SCRS) has alerted its members about the potential risk and liability associated with inadequate control over estimate data and business information.
As one recent example, SCRS was notified of growing concerns relative to the collection of data through participation in the PartsTrader parts procurement program. As the program rolled out across the nation, more questions began to arise when end-users noticed key identifying information from non-State Farm estimate files populating their PartsTrader dashboard. The repairer concern surrounds the amount of non-voluntary information being provided through the data collection process which could offer valuable information surrounding market volume and shop volume, raising further concerns over the potential of violating agreements with non-involved carriers by sharing information with an unrelated third-party.
SCRS researched the issue with PartsTrader and each of the estimating system providers to identify the means and extent in which the data is being accessed and collected; and inquiring if repair facility end-users have options to restrict non-required data from being collected, accessed or shared. As a result of that research, SCRS issued an article outlining the resulting responses from each of the technology organizations. The article concludes that:
Technology has increased the ability to communicate information amongst businesses; however, the increase of applications that indiscriminately extract data in the background for unknown or unintended purposes is a concern for repairers who have obligations to protect data generated by their business.
There are advancements being made, or already in place, from some estimating system providers which allow collision repair facilities to maintain better control over the data files being exported from the estimating systems to other data collection sources.
The solutions and options for each estimating system vary, so it is important to compare capabilities of the software programs relative to features that allow greater control over unwanted data transfer, and to make any necessary profile changes in line with individual business practices.
Collision Industry Meeting – Georgia Collision Repairers Invited
Saturday March 15 9:30 – 12:00 meeting at the Hampton Inn and Suites located at 4520 Galleria Blvd, Hoover, AL, 35244 – across the street from the Galleria and Patton Creek shopping area. 
With the changes continuing to occur in the collision repair industry from companies refusing to compensate for required procedures and processes, to the continuing issues on what are fair and reasonable rates, to steering/redirecting customers, to mandated programs [PartsTrader] the industry is indeed at a crossroads and industry members must decide to stand and fight for what is right, for the principles of freedom in operating a business.
SPEAKERS
John Mosley, owner of Clinton Body Shops in Clinton and Richland, Mississippi. In addition to owning Clinton Body Shops John Mosley is also the current President of the Mississippi Collision Repair Association and has been very involved in leading the fight within our industry.
Attorney John Eaves Jr of the Eaves Law Firm in Jackson, Mississippi. Represents repair facilities in Mississippi and has filed an injunction in Mississippi against the implementation of PartsTrader in the state of Mississippi.
Both John Mosley and John Eaves Jr have been actively traveling across the United States speaking to repair collision industry members through association meetings and in other gatherings about the problems facing the collision industry today.
The meeting will focus on the subjects of: Customer Retention, addressing the dilemma of steering/redirecting and documentation needs and requirements in your collision repair facility.
For attendees wishing to learn more about the legal challenges and lawsuits concerning PartsTrader, short pays (refusal to pay by insurers, the 1963 Consent Decree and more a discussion will follow at the end of the meeting on the subjects noted.
This meeting is open to anyone in the Collision Repair Industry (repairers and suppliers) as the issues facing the industry involve everyone in some fashion or form. You do not have to be a member of ALARISE to attend this meeting.
Southern Automotive Repair Conference
And be sure to visit the Southern Automotive Repair Conference website. Coming April 11-12.
If you are concerned with the direction of the collision repair industry and want to stand up for your principles of fairness and freedom of choice and if you want to see the collision industry move forward with change and working with technical schools to get people interested in becoming members of the workforce of tomorrow for this industry, we need your attendance and participation. If you care for the collision repair industry and want to see this industry grow and prosper then come and be a part of a group that wants the same. Everyone is different, everyone has opinions that will differ on some items but if any of these items mean something to you and are a concern for you and your business going forward you need to get involved.