Gene L. Hamilton
June 17, 1946 – October 22, 2017
Gene Lee Hamilton, age 71, of Duluth, passed away on Oct 22, 2017. Gene was born on June 17, 1946 in Indianola, Iowa. He graduated in 1965 from George Washington High School in Cedar Rapids, Iowa. He moved his family to Atlanta in 1969.
There, he started his career in the automobile industry; first in sales then later opened Sports and Imports Inc. a used car and wholesale vehicle business until the late 80's. Shortly thereafter he founded his first collision repair facility, Sports and Imports Collision which is to this day, Industry renowned. Throughout his time in the collision repair industry, Gene led the charge in shaping the face of collision repair. He also served in many leadership positions, Boards and Committees. Gene didn't just enjoy working in his business but thrived upon it. With all his involvements and activities, his most cherished time was spent with his daughters, grandchildren and friends both new and old.
Giving back was no stranger to Gene as he was actively involved and participated in several charities. Including, but not exclusive to; the Jerry Lewis Telethon and the Ronald McDonald House which is an on-going benefactor through his family's support.
Preceded in death by his father, Kenneth Hamilton and granddaughter Morgan M. Popejoy. Survivors include his mother, Norma Hamilton, daughters Michelle Coombs and Jeanette Hamilton, sons in law Bobby Coombs and Andrew Langmaid, grandsons Joshua Harvey and Jacob Coombs, and great grandchildren Taylor Harvey and Riley Popejoy.
A Memorial Service, followed by a Celebration of Life will be held Thursday, October 26, 2017 at 12:00 PM. at Ashton Gardens located at 260 Peachtree Industrial Blvd. Sugar Hill, GA 30518
In lieu of flowers, please consider memorial gifts to either Alzheimer's Association at www.act.alz.org/donate or The Atlanta Ronald McDonald House at www.armhc.org
Gene Hamilton, co-founder of the Georgia Collision Industry Association and past chairman of both the Society of Collision Repair Specialists and I-CAR, died Sunday, 22 October 2017.
"He was a hugely successful shop owner and got involved in trying to better the industry on behalf of everyone who toiled in it," Collision Industry Conference organizer and SCRS co-founder Jeff Hendler said Monday.
Hamilton owned Sports & Imports Collision in Georgia and became active in the collision repair industry in the 1990s. By 1998, he had made enough of an impact to be inducted into the Hall of Eagles, the industry's "hall of fame." By 2000, he had been elected chairman of SCRS, after already having won the industry's "Green Shop Award" and "Industry Achievement Award" — the latter for urging manufacturers and vendors to donate money they had been earmarking for industry parties to auto body repair nonprofits.
In 2003, Hamilton was named chairman of I-CAR. He also was a board member of the I-CAR Education Foundation and Gold Class Steering Committee. In 2015, SCRS honored Hamilton with the Lifetime Honorary Membership award — one of only four ever bestowed by the more than 30-year-old organization. Sports & Imports general manager Michelle Coombs, speaking on behalf of her father, said then that he would probably tell the audience that the industry has given him more than he's given it.
"Gene Hamilton is one of the most respected and recognized people in the collision repair industry today," the GCIA wrote in 2013. "This is not only because of his many accomplishments, awards, and business successes; but also because in 1997 Gene helped start the Georgia Collision Industry Association that has helped local, regional and national repairers as well. From the beginning of his career he has held a passion for our industry. For Gene, it has never been enough to turn out high quality repairs in his facilities. He has always believed that anything he can do to improve the reputation and respect of the collision repair industry at large would not only make his business model sustainable but would assist his many friends, peers, and yes, even competitors provide safer and more reliable repairs for the consumer. In the end, it has always been about ensuring that friends and families can feel confident that their vehicle was repaired to pre-accident condition and by a true collision repair professional. Gene knows that collision professionals working together is the only way to make improvements in and to better our industry."
FOR IMMEDIATE RELEASE
Contact: Chris Caris
313-203-7252
ccaris@campbellmarketing.com
OEM Collision Position Statements Added to OEM1Stop.com
Major refresh of the popular website gives repairers easier access to key automaker position statements and other important repair information
Dearborn, Mich. – August 11, 2016 – The popular OEM repair information website OEM1Stop.com has been improved and relaunched, now including for the first time automaker position statements on important collision repair issues.
The site, which is operated by a coalition of automakers known as the OEM Collision Repair Roundtable, Inc., was introduced in 2008 in response to collision industry calls for easier access to important OEM collision repair information. Since then, the site has provided repairers a "one-stop" source for that information by offering direct links to the collision and mechanical repair websites of close to 40 automaker brands; and it's been a hit with the industry, with just under 80,000 visits in 2015, an increase of 70 percent since 2010.
Over the last few years, however, as vehicles—and the materials and technologies used to make them—have become more complex, automakers have released a great deal of additional collision repair information, such as position statements on key repair questions. Repair technicians set on following OEM repair recommendations and procedures, along with the industry associations representing them, have continued to seek out and utilize the new information to help make proper repairs the first time, but it had once again become difficult to find at times.
OEM Roundtable members are hoping the new OEM1Stop.com will help resolve that problem. The site now features a page dedicated specifically to OEM position statements, with common parts- and repair procedure-related topics called out—such as structural parts, salvage airbags, clip repairs, wheel reconditioning and vehicle repair scanning—and each OEM statement in that category listed for easy access.
In addition, most of the OEMs now have their own dedicated page on the site as well, allowing each a place to list their collision repair positions and offer other important repair-related materials. Ford, for instance, in addition to its position statements, has included its F-150 repair instruction sheets, and current and back issues of its On Target collision repair newsletter.
"OEM1Stop has proven to be a tremendous resource for repairers seeking the latest OEM collision and mechanical repair information, but the addition of automaker position statements is something the industry has asked for, and we think it's an important enhancement that will make the site that much more valuable for shops intent on fixing collision-damaged vehicles right the first time," said Gary Ledoux, assistant national manager of wholesale parts marketing at American Honda and current chairman of the OEM Roundtable.
New OEM positions and other information will be added to the site as they are made
available, so repairers are urged to check back often. Meanwhile, the OEM Roundtable's other website—CrashRepairInfo.com—continues to be an easy-to-use resource shops can make available to their customers, offering collision repair basics and other information intended to help guide them through the often challenging and frustrating collision repair process.
# # #
About OEM Collision Repair Roundtable, Inc.
Formed in 1998, OEM Collision Repair Roundtable, Inc., is a non-profit collision repair industry
association composed of representatives from original equipment manufacturer (OEM) vehicle
manufacturers. Member companies include Audi of America, Fiat Chrysler Automobiles US LLC, Ford
Motor Company, General Motors, American Honda Motor Co., Hyundai Motor America, Mazda North
American Operations, Nissan North America, Subaru of America, Toyota Motor Sales, U.S.A.,
Volkswagen of America, Volvo Car USA, LLC and the Alliance of Automobile Manufacturers.
American Honda consumer safety video: "What You See, Is Not Necessarily What You Get."
The nearly 5-minute video follows a 2006 Honda Civic Hybrid, damaged in a collision, and then improperly repaired leaving it in an unsafe, un-roadworthy condition. It points out the importance of having a collision-damaged vehicle repaired in a safe and proper manner using the correct tools, equipment, and repair standards. It emphasizes to consumers, not only is it important to find a quality repair shop, but to be involved and engaged when making decisions about how the repair is made.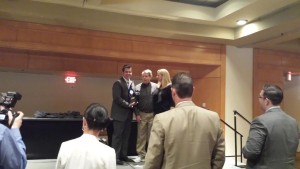 The Society of Collision Repair Specialists on Wednesday honored two recent acts and three lifetimes of service to collision repair — including giving out only the fourth lifetime membership in its history.
Sports & Imports Collision owner Gene Hamilton, who had already won the SCRS industry and lifetime achievement awards, completed the Triple Crown with the Lifetime Honorary Membership.
Former SCRS Chairman Barry Dorn — recognized as well Wednesday– observed that only three lifetime membership had been given out in the past by the more than 30-year-old organization.
Sports & Imports general manager Michelle Coombs, speaking on behalf of her father, said he would probably tell the audience that the industry has given him more than he's given it.
Dorn won the National Lifetime Achievement Award, and SCRS Executive Director Aaron Schulenburg said the honor showed that one person could make a difference. Schulenburg also noted that Dorn served as a contributing creator to some of the most beneficial and meaningful resources to the industry including the database task force, the Database Enhancement Gateway (DEG), SCRS' Guide to Complete Repair Planning, The Repairer Driven Education series at the SEMA show and this very news source, Repairer Driven News.
The recognition was one of the highlights of his life, Dorn said.
"I sincerely appreciate it," he said.
Dorn said Friday he was caught off guard by the announcement — and he's even on the awards committee.
"I wanted to thank all of my mentors over the years that have helped me become who I am and guide me down a path that I couldn't venture down without their help," he said in a statement Friday. ""People like Lou Dilisio, Jeff Hendler, March Taylor, Toby Chess and Gary Wano. Men who helped me understand that I can't do what I do for SCRS for my own personal gain but I do what do for the betterment of the industry and at the will of our membership.
"My wife Jordan and my kids to deal with my frequent travel and hectic schedule along with the numerous phone calls at night and during weekends. My co-workers at Dorn's who make it possible for me to be gone and do what I do to help the industry. My mother, who I lost last year. She forged me into who I am. She taught me to stand up for what was right, work hard at whatever I do, to be honorable, humble and to never give up.
"Lastly, I want to thank Aaron Schulenburg and the boards both present and past. All of you make it possible for me to learn what I do, each day. I am truly blessed to know and work with all of you and I can't thank you enough for all that you do for this industry. All of you are like my brothers and special to me in many ways."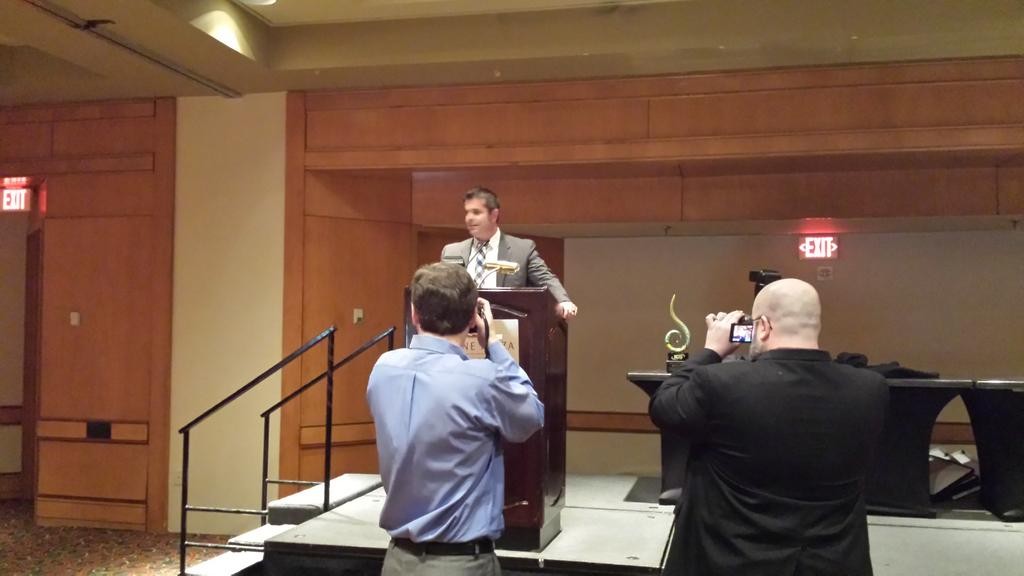 Bob Jones took the Regional Lifetime Achievement Award, and he thanked his brother who kept the shop running while he was out working for the collision repair industry.
"I'll cherish this industry forever," Jones said. "… I love this industry. It's been my life."
Georgia Collision Industry Association Executive Director Howard Batchelor received the Collision Achievement Award for his detailed research into paint and materials taxes — and double taxation — across the country.
The Nonindividual Award went to I-CAR for the Repairability Technical Support portal launched last year.
The awards were presented ahead of the Collision Industry Conference in Atlanta, Ga. — Hamilton and Batchelor's home state.
Featured image: Former Society of Collision Repair Specialists Chairman Barry Dorn, left, poses with SCRS Lifetime Member Gene Hamilton and Hamilton's daughter, Michelle Coombs on Wednesday at a luncheon ahead of the Collision Industry Conference in Atlanta. (John Huetter/Repairer Driven News)